Dr. June Meymand - Clinical Nutritionist, The Healing Cancer & Wellness Center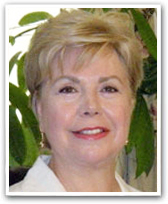 The Healing Arts Cancer & Wellness Center treats patients in a small and intimate home-­‐like setting where the comfort of each patient is paramount. The process of restoring balance and re-­‐establishing health begins with an investigation into the cause of any imbalances found to exist in the patient's chemistry. Imbalances have their roots in biochemical, nutritional, and immunological changes in a body. Some imbalances are caused by various drug and treatment therapies. Whatever the cause of imbalance in any given individual person's body, a well qualified doctor will discover it through a series of tests and analysis that require up to ten hours of the doctor's time to complete. Once a diagnosis of the cause of imbalance has been made, a specific course of treatment will be designed for the patient, using natural medicine, supplements, and healing modalities that complement and support all other treatments the patient maybe receiving or required by their Oncologist. The Healing Arts Cancer & Wellness Center has one purpose only, and that is to restore balance in a compromised immune system and re-­‐establish health to maximize the patient's positive experience of life. Dr. Meymand is Board Certified in Integrative Medicine, a Diplomat in the College of Clinical Nutrition, Fellow in the International Academy of Medical Acupuncture, Homeopathy and Doctor of Chiropractic.
Stay Updated With All Our Events & Team Of Heros!