Robert Balkman - Owner, Balkman Homes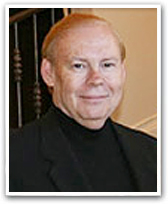 Bob is a native of Little Rock, AR, and a graduate of the University of Arkansas where he received an undergraduate degree in marketing and a Master's Degree in Business Administration. He is also a graduate of the U.S. Army Infantry Officer Candidate School at Ft. Benning, GA. Bob continued his education with graduate work at Southern Methodist University in finance and has lived in the North Dallas area since 1972. Bob brought his experiences and knowledge gained from working for a Fortune 500 manufacturing company to the home building business. The combination of his focus on attention to detail and the value disciplines Bob learned in the corporate world have been an important part of his success. Bob has been building custom homes for more than 33 years and the knowledge and skill that comes with that has earned him the reputation as one of the most respected home builders in the Dallas area. Bob has been a member of the Home Builder's Association for 33 years and is a past member of their Board of Directors. He has also held a Texas Real Estate broker's license for more than 30 years.
Stay Updated With All Our Events & Team Of Heros!